UIC Nursing students help with COVID-19 vaccine effort in Urbana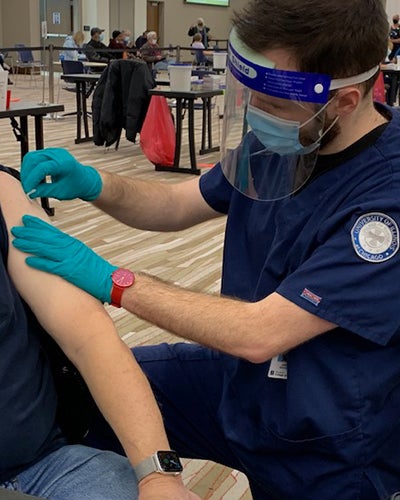 UIC Nursing students in Urbana are gaining valuable clinical skills and providing a critical service to the community by helping local public health departments administer the COVID-19 vaccine.
"Our students and faculty have eagerly embraced this opportunity to be leaders and active participants in promoting and protecting the health of our community," says Krista Jones, DNP '11, MSN '07, RN, PHNA-BC, director of the Urbana campus. "For those students on the cusp of professional practice, this offers an evidence-based, service-learning opportunity to apply knowledge to practice and positively impact the health of our population. It is such a remarkable rewarding experience for them and our faculty."
Students in the Master of Science/graduate-entry program provided COVID-19 vaccinations at the Vermilion County Health Department and at the I Hotel twice in January, supporting the efforts of the Champaign-Urbana Public Health District. This was done as part of their Integrated Health Care Community clinical course.
Bachelor's degree students in the Nursing Care of Populations clinical course are also providing vaccinations at those two locations once a week for the remainder of the semester.
Jason Brooks, a pre-licensure master's degree student, called it a "privilege" to administer the vaccine to individuals in tiers 1A and 1B: healthcare workers, individuals aged 65 and older, first responders and other frontline workers.
"This whole experience has been extremely humbling for me," he says. "Many of them expressed how challenging this past year has been for them, and they shared with me how relieved they were to be receiving their first dose of the COVID-19 vaccine. Those interactions really made me feel honored to be a nursing student."
Lucas Chesko, also a master's degree student, added that the mood of most was "excitement and relief to finally see the light at the end of the tunnel of this long, stressful, frightening pandemic." Chesko says he was grateful for the opportunity to take part in the vaccination effort alongside volunteers, including nurses, emergency medical services providers, physicians and medical students.
"They allowed us to work on skills that will undoubtedly be vital in the years to come as we graduate and transition into the world of medicine," he says.
In addition to Jones, Urbana faculty involved in coordinating the efforts include visiting teaching associates Amanda Sperry, MS, BSN '97, RN, PEL-CSN, and Alisha Carter, MS, RN, and clinical instructors Breann Swan-Figueroa, MS, BSN '10, RN, Ibu Afolabi, MS '13, BSN '08, RN, and Marcia Wright, MS, RN.
Modified on January 17, 2022