'We have to do it in a different way now'
Elisabeth Schreiber, MS '11, APRN, assistant director of advanced practice providers for UI Health's Clinical Decision Unit Heading link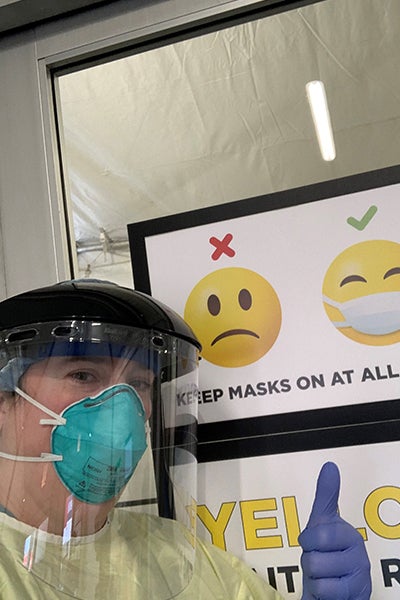 On the first day that UI Health opened up a tent to assess possible COVID-19 patients outside the emergency room, Elisabeth Schreiber, MS '11, was one of the advanced practice nurses deciding whether patients were the "walking well"—to be treated in the tent—or were sick enough that they needed to be split off to a special area of the emergency room.
As assistant director of advanced practice providers for UI Health's Clinical Decision Unit, Schreiber doesn't usually work in emergency room triage, but she has eight years of experience as an emergency room nurse and knew her skills could be harnessed to help get the tent up-and-running.
She says she and her husband, a civil engineer, talked early on with their four elementary school-aged children about the potential for her to be on the frontlines.
"We had a frank conversation with the kids," she says. "I was trained as an emergency department nurse. We knew that if things progress the way they have other places, I will be in the 'ED.' That's just where I'm going to be."
What surprised her on that first day was the gratitude she got from patients, and how concerned they were about patient providers getting sick."
Historically, as a triage nurse, you don't have people thanking you," she says. "You have people yelling at you. But this was different. They were scared and grateful. A lot of them just aren't used to being this sick."
Nurses are particularly good at comforting patients and explaining medicine in an understandable and compassionate way. But covered head-to-toe in personal protective gear—she wore a mask, face shield, gown, disposable sleeves, and gloves—she realized she was going to have to find new ways to communicate.
"They can't see my face," she said. "They can only see my eyes. I can't touch them. I have to try to reassure them verbally, making my eyes as kind as possible."
She added: "Nurses are very good at comforting patients, but we have to do it a different way now."
Modified on August 26, 2020