Diversifying midwifery
Scholarship recipient Jayme Henderson, RN, is passionate about women's health and addressing maternal health disparities.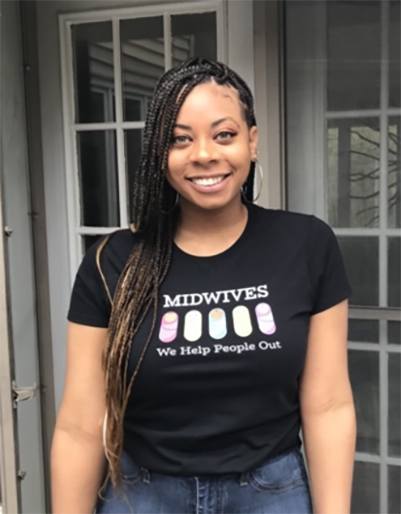 Jayme Henderson's interest in midwifery was solidified when she shadowed a midwife during a practicum in her undergraduate program. She was inspired by the individual attention the midwife gave to her patient, staying with her for the duration of her labor.
Just six months after graduating with her bachelor's degree in nursing, Henderson enrolled in the UIC Nursing DNP program for midwifery and women's health.
"All aspects of [midwifery and women's health] excite me, from preparation and prenatal care, to actual delivery, to postpartum care," she says. "That's why I wanted to jump right into the midwifery program. It's what I've always known I really, really enjoyed."
Henderson is the first recipient of the UIH Midwifery Practice Diversity & Inclusion Scholarship, which was established in October 2020 to benefit midwifery students from underrepresented backgrounds. UI Health midwives and UIC Nursing alumnae Kathleen Harmon, MS '95, CNM and Maddalena Buscemi, DNP '19, CNM, were primary drivers in bringing the fund to fruition.
"I'm very much honored," Henderson says. "I'm glad that this scholarship brings to light the need for more diversity in midwifery. As a first semester student, just starting my journey at UIC, this is really encouraging."
She says that the scholarship has helped her to avoid taking out loans as a DNP student. Henderson also works full-time as a labor and delivery nurse at Advocate Trinity Hospital in southeast Chicago, adding that she deliberately chose a hospital where much of her patient population would be people of color.
"As a person of color, I want to ensure all my patients of color get the same treatment of care that their white counterparts get," she says. "I'm driven to be there as resource to educate and to ensure those patients of color aren't falling through the cracks."
Modified on November 04, 2021