UIC Nursing announces inaugural Mendelson scholars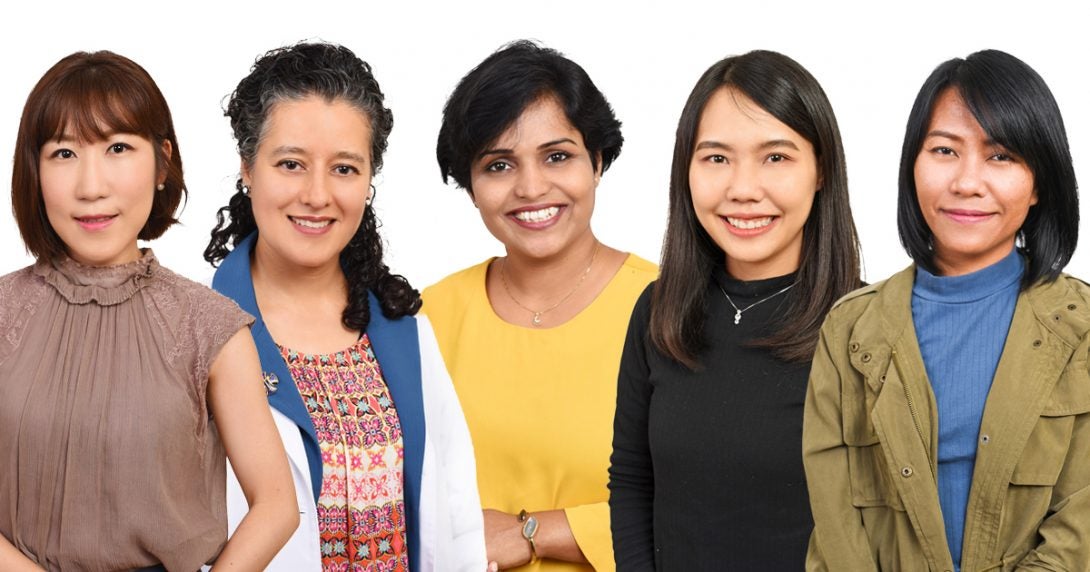 The UIC College of Nursing is pleased to announce the first five doctoral students to receive Tom and Sherri Mendelson PhD Awards, which were made possible by a 2020 gift from alumna Sherri Mendelson, PhD, MS '84, BSN '77, and her husband, Tom.
Sherri Mendelson, now a nurse scientist and Magnet program director at Providence Holy Cross Medical Center in Mission Hills, California, says she wanted to establish the award to support future nurse scientists.
"My current position as research scientist for a large hospital system really helped me understand how much nurses need support in order to do their research and to move forward in understanding evidence-based practice and research," she says.
The Mendelsons met at the University of Illinois at Urbana-Champaign (where Sherri Mendelson attended before transferring to Chicago to complete her BSN). She says she received critical financial and emotional support as a student.
"Without that support it would not have been possible," she says. "I want to pass that on to other students."
Asha Mathew Solomon
Advisor: Ardith Doorenbos, PhD, RN, FAAN
Research topic: Symptom-cluster experiences in oral cancer
In the second year of her PhD studies, Solomon is an acute pain nurse specialist. Characterizing pain experiences is her primary area of interest. A native of Vellore, India, she has been working with Ardith Doorenbos in the University of Illinois Cancer Center for the past year. The purpose of Solomon's study is to explore differential symptom-cluster experiences in oral cancer, with a goal to identify patient subgroups based on their distinct symptom experiences and, ultimately, enable more targeted interventions.
Wiphawadee Potisopha
Advisor: Patricia Hershberger, PhD '05, FNP-BC, FAAN
Research topic: Understanding treatment-seeking decisions in acute stroke survivors
Potisopha came to UIC after finishing her master's at Mahidol University in Thailand, her home country. Now in her third year of PhD studies, she is interested in exploring stroke and EMD services in Thailand. The purpose of this study is to investigate treatment-seeking decisions among Thai women and men experiencing acute stroke. She wants to examine decision-delay and explore sex differences in those delays.
Elizabeth Rios
Advisor: Lauretta Quinn, PhD '96, RN, CDE, FAHA, FAAN
Research topic: Psychosocial factors that may influence the development of type 2 diabetes among Mexican immigrant and Mexican-American women living in the United States
Rios is a family nurse practitioner working in Harvard, Illinois. She has been working with the Latino community through her church and community agencies in Northern Illinois—work that was the underpinning for her year as a Schweitzer Fellow in 2019-20.  The purpose of her current study is to examine the influence of depressive symptoms, acculturative stress, coping, physical activity, and diet on glucose tolerance status in Mexican-American and Mexican-Immigrant women.
Manassawee Srimoragot
Advisor: Bilgay Izci Balserak, PhD
Research topic: Sleep characteristics and cardiovascular disease risk among Asian women
Srimoragot is a third-year PhD student from Thailand with degrees from Mahidol and Chiangmai Universities. She is interested in sleep disorders in Asian women as they transition to menopause. Her study aims to use a survey to examine sleep disorders, sociobehavioral factors on sleep disorders, and the role of sleep disorders and sociobehavioral factors to predict cardiovascular disease risk among Asian women.
Sungwon Park
Advisors: Carol Ferrans, PhD '85, MS '82, RN, FAAN; Lauretta Quinn, PhD '96, RN, CDE, FAHA, FAAN
Research topic: Factors influencing adherence to health behaviors recommended by a metabolic syndrome management program
Park is a third-year PhD student whose research interests focus on adherence to healthy behaviors, particularly in those who are at high risk for metabolic syndrome. Her work as an occupational health nurse in Korea spurred her interests in the topic. The purpose of this study is to identify factors influencing adherence to behaviors recommended for managing metabolic syndrome and reducing its risk.
Modified on September 02, 2021