UIC Nursing faculty inducted as ACNM Fellows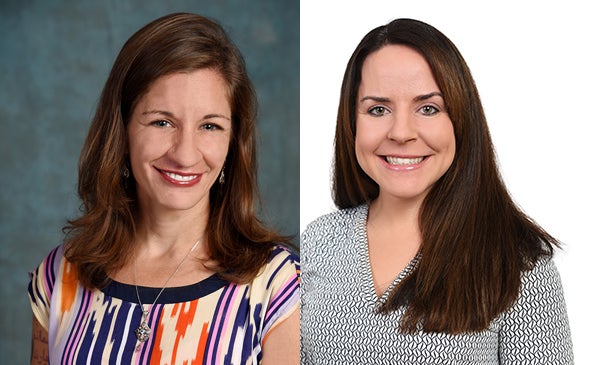 UIC College of Nursing faculty members Kirby Adlam, PhD '21, MS '10, CNM, and Kylea Liese, PhD, CNM, were inducted as fellows of the American College of Nurse-Midwives at the professional association's annual meeting on May 7.
Fellowship in ACNM is an honor bestowed upon those midwives whose demonstrated leadership within the organization, clinical excellence, outstanding scholarship and professional achievement have merited special recognition, both within and outside of the midwifery profession.
Adlam, a clinical assistant professor, has taught in the BSN, master's and DNP programs at UIC Nursing since 2014. She engages in research in reproductive health, third-party reproduction and traumatic birth experiences.
Liese, an assistant professor, is a medical anthropologist and practicing midwife who is co-principal investigator on a $7.1 million grant to combat disparities that affect maternal and infant outcomes. Another co-PI on the grant, Karie Stewart, CNM, MS '17, MPH, was also inducted in the 2023 class of fellows.
Stewart is a PhD student at UIC Nursing and a midwife at the University of Illinois Hospital. Two of her colleagues in the UI Health midwifery practice, Tracy Abraham, CNM, DNP, Kathleen Harmon, CNM, MS '95, were also selected for ACNM fellowship this year.
In total, 74 nurse-midwives nationwide were accepted as fellows in 2023.
Modified on August 11, 2023