Alumni award winners flex research power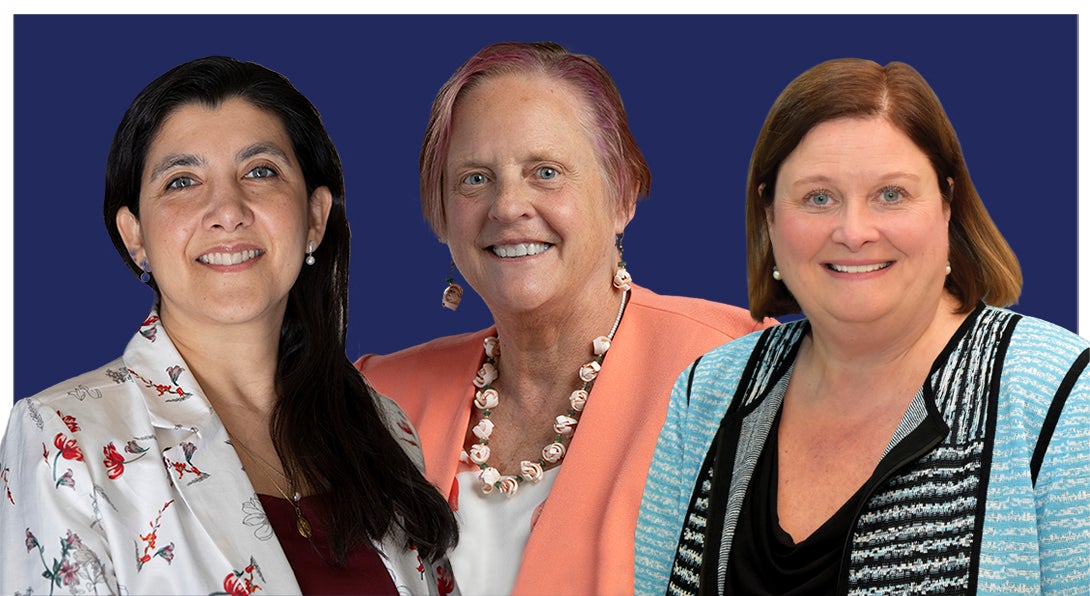 Recipients will be honored in October at All-Alumni REUNION Heading link
Though representing diverse backgrounds and experiences, the recipients of the UIC College of Nursing's 2022 alumni awards have all led careers demonstrating a commitment to improving health outcomes through nurse-led research.
Sue Penckofer, PhD '93, MS '82, BSN '79, RN, FAAN, will receive the 2022 Distinguished Alumni Award. Throughout her career, Penckofer made important strides in understanding cardiovascular disease risk among women. She also worked on influential therapies to treat depression in women with diabetes, long before the topic of mental health was mainstream.
Sarah Ailey, PhD '02, MS '98, BSN '96, and Lilian Ferrer, PhD, MS '01, FAAN, were selected as the 2022 recipients of the Outstanding Alumni Achievement Award.
Ailey—a professor in the Rush University Department of Community, Systems and Mental Health Nursing—is "one of the foremost scholars in the care of individuals with intellectual disabilities," according to alumna Julia Cowell, MS '74, who nominated Ailey for the award.
Ferrer, a professor and vice president for international affairs at Pontificia Universidad Católica de Chile, has made globalism a hallmark of her career.
"I am very proud of the contribution that we, as nurses, can make," she says. "Being a nurse means I'm part of a group of people who care about others, who care about human beings."
All award recipients will be honored in October at REUNION 2022.
Modified on August 17, 2022