Distinguished, outstanding alumni to be honored at 2021 REUNION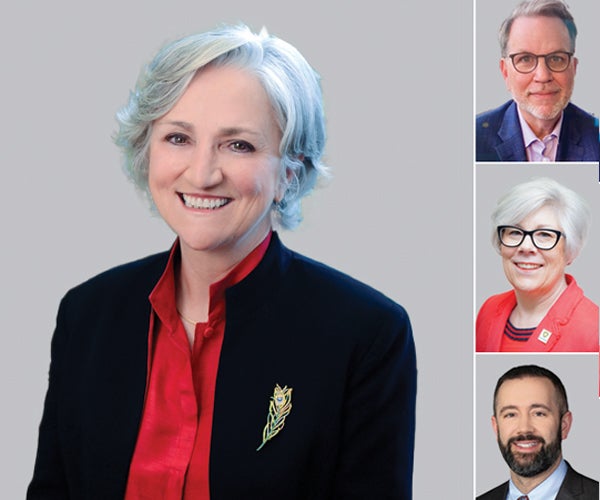 Four remarkable UIC Nursing alumni will be recognized during the all-alumni REUNION on Oct. 16.
Tonda Hughes, PhD '89, RN, FAAN, will receive the 2021 Distinguished Alumnus Award at REUNION 2021. The award is the highest honor given to a UIC College of Nursing graduate.
Hughes, Henrik H. Bendixen Professor of International Nursing and associate dean for Global Health at Columbia University School of Nursing, has a distinguished research career focusing on sexual minority women's mental health and substance use. Her pioneering studies on alcohol use among sexual minority women have received nearly continuous funding since 1999 from the National Institutes of Health (total funding exceeds $25M).
Three additional alumni were selected to receive the UIC College of Nursing's 2021 Outstanding Alumni Achievement Award, which recognizes individuals making exceptional contributions to healthcare, health science and society. They also will be honored at REUNION.
Dale E. Beatty, DNP '17, RN, NEA-BC, is the chief nurse executive and vice president at Stanford Health Care which is a premier academic health system and is the flagship hospital for Stanford University.
Timothy Carrigan, PhD '11, is CNO and vice president of patient care services at Loyola University Medical Center and assistant professor of nursing at Loyola University's Marcella Niehoff School of Nursing.
Sandra Martell, DNP '10, RN, MS '93, is the public health administrator for the Winnebago County Health Department, which serves a unique urban, suburban and rural population of over 280,000 in Winnebago County, Illinois.
The 2021 REUNION is scheduled for Oct. 16 at the UIC College of Nursing Chicago campus, 845 S. Damen Ave., Chicago, IL 60612. A Zoom option will be available for those unable to attend in-person.
Modified on October 14, 2021