The senior class pool jump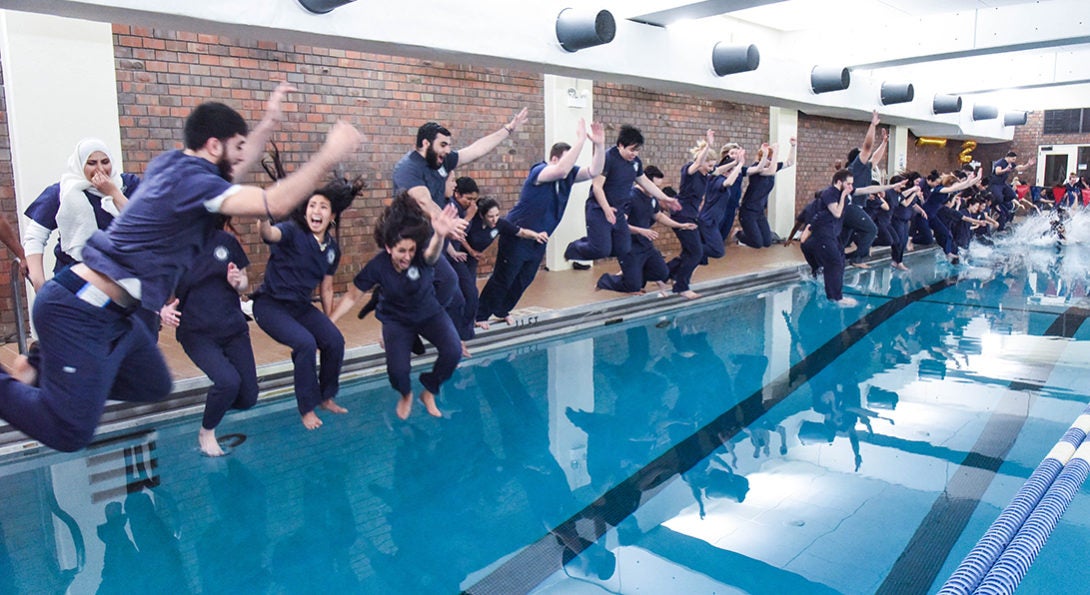 Our BSN students' odd and admired tradition
Our BSN students' odd and admired tradition
Each year as commencement week approaches, bachelor's degree students who are about to graduate celebrate with a sort of communal baptism into life after college: They put on their scrubs and jump in a pool.
On the Chicago campus, the jump happens at UIC's Sport & Fitness Complex following a luncheon and honors ceremony for the senior class. Intrepid BSN students in Urbana plunge into the ARC outdoor pool on the Urbana-Champaign campus. And for the first time in 2019, students at our Springfield campus participated, partnering with a local fitness club pool. (It was only the second class of BSN students to graduate from our newest campus.)
How did this thing get started?
Little is known about the tradition's origins, other than that it began in Chicago and was inaugurated in Urbana in 2008. It took root simply by each class of undergraduate students passing it on to the next.
"It's been happening since I began working here in fall of 1981," says college staffer Denise Rosen. "Then and now, it's a way for the students to 'wash off' the stress of their undergrad years and celebrate and bond in a really unique way."
In the early 1980s, students took the plunge in swimsuits and their official nursing aprons, says Rosen. In recent years, the attire has been scrubs.
Decades ago, the event was a favorite feel-good story covered by major Chicago newspapers and TV stations. In a grainy, undated photo from a Chicago Tribune clipping, students are captured mid-jump; a banner on the wall behind them announces "The Nightingale Plunge," presumably a twist on the Nightingale Pledge, a professional oath for nurses named in honor of Florence Nightingale.
"I'm still glad I did it," says Joey Nguyen, BSN '12. He is now behavioral health nurse Officer at Winn Army Community Hospital in Fort Stewart, GA. "It's a fond memory for me because of the symbolism that it held. I feel like it made my UIC experience even more unique."
Modified on June 03, 2019