The Schwartz Lab
The college's $6.1 million M. Christine Schwartz Experiential Learning & Simulation Laboratory is among the largest at any U.S. nursing school. Heading link
The UIC College of Nursing is home to a state-of-the-art simulation lab that opened in August 2019 at the main campus in Chicago. Launched by a generous $5 million donation from the alumna whose name it bears, the M. Christine Schwartz Experiential Learning & Simulation Laboratory features 15,000 square feet of teaching and learning space, all designed with students in mind.
Finished with a $1 million gift from Nita and Phil Francis, the robust Schwartz Lab provides a highly realistic—but safely low-risk— environment for students to practice skills, react to changes in their patients and the environment, problem-solve and think critically.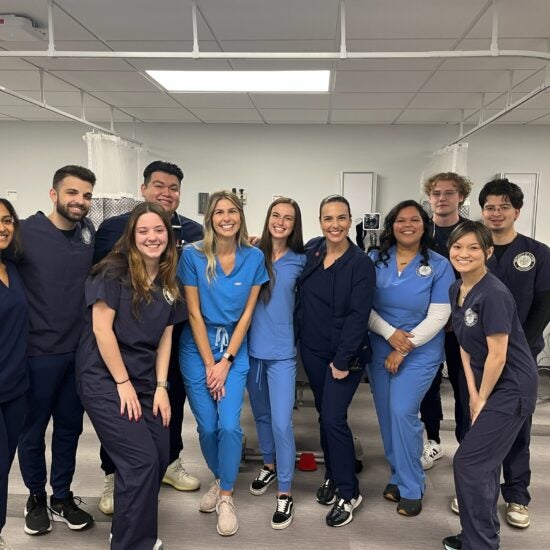 We were delighted to welcome Ana Belaval and the "Around Town" team from WGN Morning News to our Chicago campus on May 11. They toured our world-class Schwartz Lab, showing their audience the sophisticated ways in which we educate RNs and APRNs today. If you were inspired by the segment:
Request a visit to the lab for your group
Nita & Phil Francis Family Birthing Suite
The birthing suite enables students to develop their clinical skills related to labor and delivery with the use of high-tech, high-fidelity manikins such as Laerdal's SimMom™ and SimBaby™. From a control room behind a one-way glass, instructors view and record students at work while operating the voices and physiological responses of the manikins. Later, the students review their recorded simulations with instructors and peers.
Team-Based-Learning Classroom
The team-based-learning classroom for 70 students has grouped seating. Students can work in small teams at tables equipped with fl at screens on which they can share completed work with the whole class.
Main Lab
A 10-bed skills lab features fully equipped functional head wall units and up-to-date technology. It can also be converted to a simulated ER.
Exam Rooms
Five patient rooms are set up as primary care clinic rooms. Each includes an exam table, diagnostic and physical examination equipment, and a computer on which to document findings.
Standardized Patient Rooms
Five simulation rooms emulate a variety of environments in which students are able to develop their assessment, critical thinking, and clinical reasoning skills. Standardized patients can be brought in to portray pediatric, medical/surgical, ICU and geriatric scenarios. Like the Francis Birthing Suite, each is equipped with a control room from which instructors can assess the students' simulation.
Seminar/Debriefing Rooms
Two seminar/debriefing rooms bring students together to observe real-time footage of themselves and their peers in simulation. Here they gather with their faculty instructor for dialogue, to give and receive constructive feedback regarding what was learned in the simulation experience.
Home Care Setting
A fully furnished living room, kitchen, bedroom and bathroom allow students to practice skills for caring for patients across the life span in the home. Like other spaces throughout the learning lab, this model apartment is equipped with a control room from which instructors can assess students' simulation.
Mental Health Room
A peaceful setting furnished and arranged for comfortable conversation, the mental health room is also equipped with a control room from which instructors can assess students' simulation.
Student Study Lounge
Nursing school can be intense, and Schwartz recognized that students need a quiet space of their own to work and prepare for the lab experience.
Student-Centered Design
From hallway nooks, to a "living wall," to a meditation room and lactation room, the Schwartz Lab was designed with students in mind.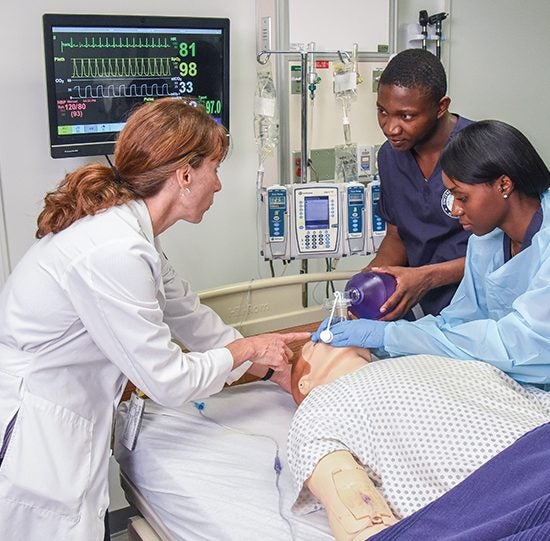 The Schwartz Lab is home base for our Student Success Program, which offers mentoring, tutoring and open lab times, meaning you'll never have to go it alone.
Learn more